Whether you're starting a new hobby or want to upgrade your current equipment, these points should help you boil down which sewing machine is the best fit for your needs.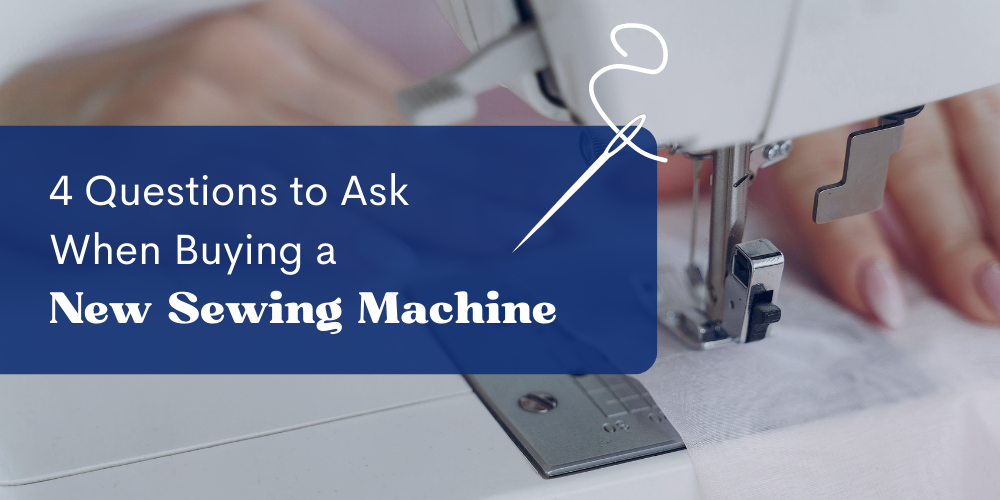 1. It's no surprise that your first question should be: what is my budget? Having a price window in mind will help minimize the overwhelming amount of options. There are plenty of entry-level machines with an affordable price point, as well as some refurbished options here at Dominion Sewing.
2. Your second most important question is, what will I be sewing? Consider whether you will be sewing for personal or commercial purposes. Is your goal to repair or create clothing? Will you be working with heavy-weight fabrics like jeans or leather?
3. That leads us to, what features am I looking for? When quilting, you might want a machine that comes with special accessories, or has an extensive library of stitches you can get creative with. You may also want a machine with a larger throat space. A side note to think about also is, how much do you prioritize convenience? For example, would you like your machine to have a button that cuts your thread, or a button that locks in your stitches?
4. Your next question worth considering is: do I want a mechanical or computerized machine? Mechanical machines usually have a smaller throat space, which can be a little bit of a hassle for those looking to quilt. They are usually more simplistic, have less options, but come with a lower price point. Computerized machines more often come with all the bells and whistles previously mentioned, may not have an extension table, nor the increased stitch options and most of the features previously mentioned. 
Now that you've explored some considerations, hopefully you've come to a rough conclusion on which machine is best for you. Why not check out the machines we have here at Dominion Sewing? We provide:
A 25 year limited manufacturer's warranty for newly purchased machines
A one year warranty through the store for pre-owned machines
In-person demonstrations on how to use the machine
Our customer service will continue after your purchase. Any questions you have are only a phone call away, and our repairs are all done in-store. Click here to browse our selection of sewing machines!