We are now an official distributor for BERNINA sewing machines and accessories. This means we need to make some room for upcoming stock - check out our new deals!

Exciting news - We've got BERNINA sewing machines and accessories coming to our shelves! 
This Swiss brand is known for its history of high-quality sewing machines made with an innovative design in mind. You'll notice their efforts to spread inspiration through their involvement in the sewing community, with creativity in every corner of their work.
Our staff has just returned from a training retreat so we are ready to demo and help repair your latest machine. BERNINA has many resources to learn from, including an extensive FAQ on their website, so you can also familiarize yourself with simple fixes at home. They have a fantastic warranty of 25 years to boot; all you need to do is register your machine online.
With new stock of sewing machines incoming, we are clearing out the shop with huge deals! Hundreds of dollars off anything ELNA branded, and newly listed pre-owned machines are now on our website (click the text links to view).
For deals on BERNINA machines, check out the ongoing promotion; A Sewist's Wonderland!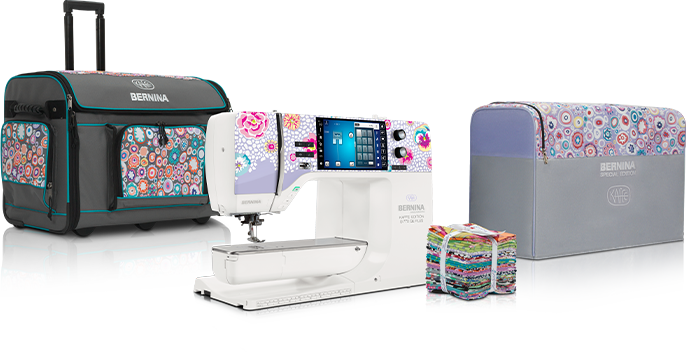 BERNINA 770 QE PLUS - Kaffe Edition
Limited quantities available
$8,899.00   $6,899.00
Extras worth over $1,900* or $4,500**
Exclusive Kaffe Fassett faceplate design
Kaffe Fassett Collective fabric bundle
Unique stitches and embroidery designs
BERNINA Stitch Regulator (BSR) included
BERNINA 590
The perfect machine for Sewists, Quilters & Embroiderers
$6,899.00  $6,749.00
High power for unusual materials
Sew & quilt lots of layers super fast
Handle bigger projects with ease
Achieve finest embroidery results
Easy positioning of embroidery designs
bernette 37
An affordable sewing machine with a wide range of features and impressive stitch quality
$1,249  $749
The bernette 37 is a compact computerized model with simple operation and robust construction. It has many functions, such as the practical start/stop function that allows you to sew without using the foot pedal. You can also use the needle stop up/down function to decide whether the needle should stop in the fabric or up above it. This is a particular advantage when you want to sew corners and turn the fabric around the needle. With the bernette 37 you can also adjust the sewing speed to suit your individual requirements and the type of material. The bright LED light helps ensure that your work surface is always well lit. The bernette 37 is delivered with 5 presser feet (soles).
LCD screen
Stitch overview and Quick Start Guide
Five different buttonholes
50 stitches, including decorative and quilting stitches
7 mm stitch width
Start/Stop button
Speed regulator
For other BERNINA deals, checkout the Sewist's Wonderland catalogue to browse machines available to order through us. This promotion ends January 31, so act fast!